Trudi Birger's privileged childhood in Frankfurt, Germany ended abruptly at the age of seven with the rise of Nazism. The Nazis caught her family after several years of hiding. Trudi and members of her family were sent to a death camp. She was literally snatched from the crematorium door through a miracle that Trudi described in her book "A Daughter's Gift of Love" (The Jewish Publication Society, 1992). She vowed then never to abandon a child in distress. After the war she married and immigrated to Israel with her husband and mother. She began to fulfill her vow in the 60's when she was a full-time microbiologist and pregnant with her third child. During her work with needy children she became aware of their physical and psychological suffering due to severe dental problems. She could identify with these children, having had her own teeth knocked out by a Nazi guard in a concentration camp.
In 1980, Trudi founded the non-profit Dental Volunteers for Israel (DVI) clinic. The cardinal principles upon which Trudi established the dental clinic continue to guide its practice to this day and make it unique:
The treatments provided to Jerusalem's children from the city's most needy families – regardless of their religious or ethnic origin – would be totally free.
The city's welfare service offices would refer these children and they would be the only patients to be served by the clinic.
Children and parents must participate in a dental hygiene preventative health care program.
There would be a regular six-month recall program.
Volunteer dentists, both Jewish and non-Jewish, from many countries would be the mainstay of the clinic's staff.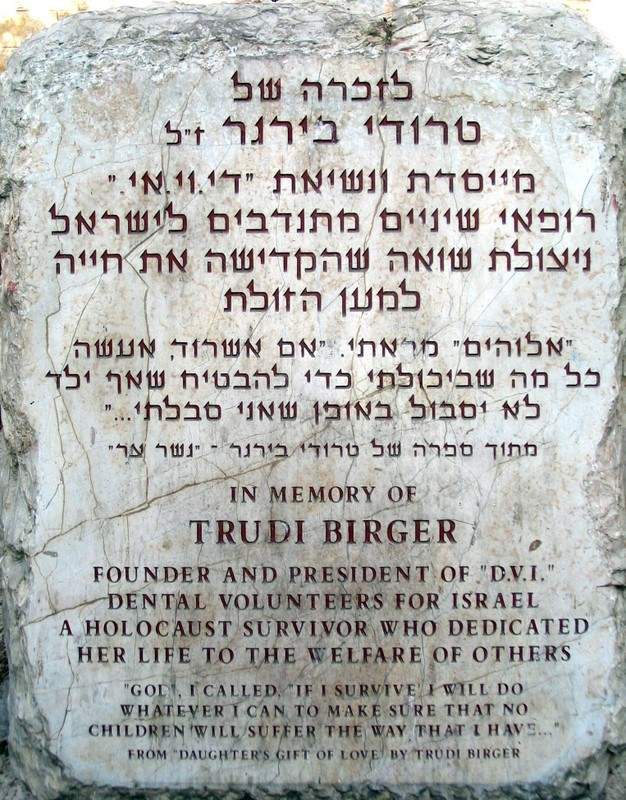 For over two decades, Trudi's determination and forceful drive kept the clinic open. She raised the necessary funds from private donations to establish and then to operate the clinic. (To this day, the government's grants are less than 5% of the clinic's annual operating budget).
In 1981, Trudi received the President's Award for Volunteerism. In 1991, she was named a Worthy of Jerusalem. Trudi was made an Honorary Member of the Alpha Omega International Dental Fraternity in 2000. Those who knew Trudi, were inspired by her selfless drive and her uncompromising determination to make certain that the children who needed dental health care the most would receive the very best. Her humanitarian view of life provided her with immense energy as she strove to fulfill her promise to alleviate suffering.
Trudi Birger, founder and president of DVI, passed away on her 75th birthday. DVI's Board of Directors is fully committed to her vision and dedicated to continuing the clinic's work. In honor of Trudi's memory and to acknowledge her many achievements, DVI's clinic is now appropriately named "The Trudi Birger Dental Clinic."