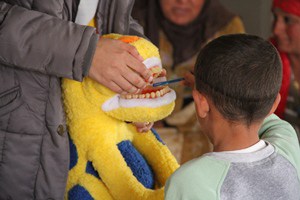 On February 14th, 2012 an Arab-Israeli DVI dentist set out with Operation Blessing Program Manager Jennifer Allen, to improve the oral health in a remote Bedouin village in the Negev. Dr. Arin Jamil completed her residency in pediatric dentistry at DVI, and was happy to be able to help bring basic oral hygiene to a Bedouin community – the children and their mothers were even happier to meet her, and welcomed the 'Arab dentist lady' as though she were a celebrity. Dr. Jamil went through the basics, from demonstration on a large model of teeth, an explanation of caries form, alternating to coloring activities with pre-prepared Arabic language oral health coloring sheets, tossing of lollipops into the trash as part of a visual demonstration about nutrition and oral health, involving kids in brushing the teeth of the demonstration puppet, and distributing toothbrushes and toothpaste to the kids. Throughout her instruction, the classroom was completely transfixed on her every word. She left a gift with the teacher of oral health ed lesson plans and an Arabic-language picture book with an oral health message.
A Background on The Village – The community was so taken with Dr. Arin Jamil that the village Sheik had to meet her for himself, and question her on her village (Taibeh) and how she came to become a pediatric dentist. He took us to see his camel and a sheep, and their new offspring, of which he was very proud. Then he began to explain the community's infrastructure. As an yet-unrecognized village, Israel is not required to provide basic infrastructure. For years, their community subsided on a gas-powered generator for all of their electrical needs – thus families have had neither electricity nor running water in their homes, but only in communal areas. Last year, Operation Blessing installed a solar-powered generator, which has had a profound impact on the quality of life in the community. (Operation Blessing is a non-profit organization connected to American evangelist Pat Robertson, who has contributed to DVI from Trudi's time until today.) The Sheik explained the benefits of solar power to us, and how Bedouin communities should take the opportunity to benefit from new advancements. Clearly, this gift has had a profound impact on the Bedouins' way of thinking.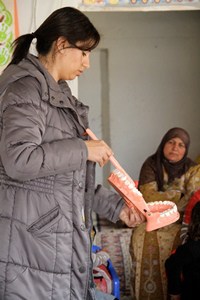 Children must be bussed out to schools, but the mothers prefer to keep their children at home, so they did not attend school. In August 2011 a new private school was established in the unrecognized village by a British foundation. Since then, children attend the school with their mothers, and both generations are learning to read (Arabic and English) together.
Now they will be brushing their teeth together too! Before we left, the mothers asked that Dr. Jamil check the mouths of their children for caries, which she did – and the entreated her to return again and check on their progress!
We followed up with their teacher Anita, who established the school, "After Dr. Jamil had checked the children's mouths and identified which children needed attention, we wrote a letter to the parents advising them to take the children to a dentist for a check-up. The children continue with their healthy eating programme and are generally enjoying life in the kindergarten."