Since 2004, Dr. Peter Kurer has been coming to volunteer at DVI three times a year. With his bright blue eyes and calm professional air, Dr. Kurer is loved by everyone in the clinic. One of the techniques that he has introduced in the clinic is the Kurer anchor system which help rebuilds teeth after root canal. His technique is amazingly successful, and in the nine years that he has been using it at the clinic, only one anchor has failed.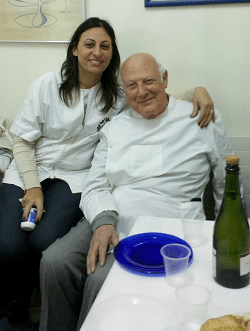 In addition to the standard treatment that the kids receive, Dr. Kurer also donates esthetic crowns for restoring front teeth. There are many stories to tell about how Dr. Kurer has helped our DVI kids, but there are several that stand out:
Lior, a 22 year old, who came to us through the Kidum L'Noar program that saves street kids, with an entire mouth neglected and in need of emergency care. Lior is still in the process of reconstructing his teeth with us, but the pain and decay are taken care of, and with the crowns Dr. Kurer has placed on his front teeth – Lior is smiling again.
Meirav comes from a broken home, and was placed in a boarding school; her school social worker brought her to us. When Meirav first came to the clinic, she was dreadfully shy and wouldn't smile in order not to expose her rotten front teeth. Dr. Kurer's magic hands helped restore her smile and her confidence.
Thank you, Peter – we look forward to seeing you again at the clinic!